You are Invited to help us Celebrate!!
15 Years and many more to go! Help us Honor our Pastor Rev. Dr. John L. Williams and Lady Elnita Williams for their 15th Pastoral Anniversary. #StayTunedForFlyer
#TeaserVideo #15Years #Anniversary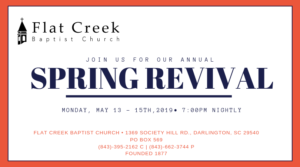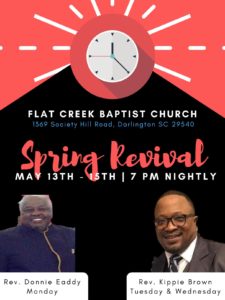 Spring Revival is just Day's Away!
Join us for our annual spring revival at "The Creek".
Monday, May 13th through Wednesday, May 15th 2019 at 7:00 PM Nightly.
Rev. Donnie Eaddy (Monday)
Rev. Kippie Brown
(Tuesday & Wednesday)
Our Vision
Effectively communicate with god through Prayer
.
Bless His name at all times by Praising Him continuously.
Minister in our homes and community by walking in the Power of Jesus Christ.
Join Us
Praise & Worship – 10:00 am
Morning Worship – 10:15 am
Bible Study – 6:30 pm (Weekly)